Welcome to Amadeus Travel Agency Costa Rica
Travel agency for booking hotel and car rental in Costa Rica
Based in Costa Rica as a multi-award winning incoming tour operator
and  certified by the ICT Instituto Costarricense de Touismo) with 5 stars regarding sustainable tourism.
 We focus on tailor made travel in Costa Rica as well as in combination with Panama and Nicaragua
Major pillars of our philosophy are:
high end travel with special trained program directors for people in every age
sustainability and environmental concerns
creation and support of social and economical projects
COVID 19
Important information about this issue in Costa Rica

Top 5 Tours
Tours best rated from client feedback
Top 5 Hotels
Hotels best rated from client feedback
TOP 5 PHOTO GALLERIES
The most visited Photo-Galleries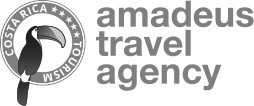 Celebrating our 25th anniversary Amadeus Travel CR wants to use this opportunity to thank all our customers for travelling with us. We feel very pleased with the honor to have received the highest possible certification regarding sustainable tourism by the National Tourism Institute of Costa Rica. It encourages us to achieve the highest possible standards in terms of the quality of our tours and the education and training of our team.